This year will mark the 7th annual holding of the "Pink and Green" weekend in Edgartown. Taking place this year on 11th – 13th May this colorful fest is not a homage to Lily Pulitzer (although they do have an outlet in Edgartown!) but is a celebration of Spring and of Mother's Day. The pink symbolizes the beautiful cherry tree blossoms that are seen around the island at this time of year and the green represents the lushness of Spring.
Edgartown Lighthouse will be draped in Pink & Green bunting and streamers and there will plenty of special offers at the stores playing into the Pink & Green theme and providing ample opportunity for gifts for mom. A buggy parade will work its way down Main Street and the locals will be decked out in their fanciest Pink and Green togs.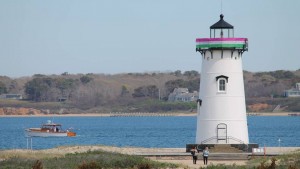 Restaurants will entice you to sample the gaudiest looking of libations that visually may give you pause to question there toxicity level  but (usually) taste divine. There is also an annual Pink & Green dog show, where you get the pleasure of dandifying your favorite pooch in spectacular colors. What's more appealing than a doberman in a pink tutu!
So join in the festivities and be certain to be tickled pink or stay home and simply be green with envy. The choice is yours but if you do make the trip we have a couple of rooms left here at the Nobnocket Boutique Inn.
Safe travels,
Simon