Hotels and inns on Martha's Vineyard all have something different to offer and have their own individual styles, from classic inns to chic retreats and from couple's getaways to family resorts.  So it's worth taking the time to research carefully to make sure that your trip and the place you'll be laying your head for your island vacation fits your needs and expectations and isn't simply the place that Expedia or booking.com want to push you towards in order to clear their inventory.
With awards from Condé Nast, Condé Nast Johansen's, Boston Magazine, Yankee Magazine and Cape Cod Life recognizing Nobnocket Boutique Inn as the Best Martha's Vineyard Boutique Hotel we wanted to share our thoughts on our favorite inns and hotels and the different things that they offer.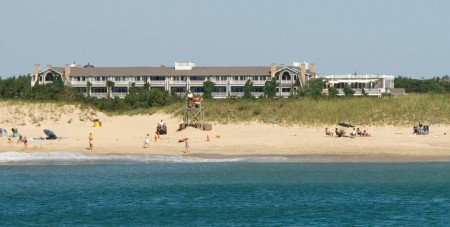 Family Fun – The Winnetu Resort
The Winnetu Resort is simply top class. This is a very smoothly run operation providing the ultimate resort vacation for you and your kids. Located at South Beach (aka Katama Beach) in Edgartown, you can choose to chill by the pool or walk the boardwalk down to the spectacular beach.  The Dunes is one of the best dining spots on the island and you can enjoy the 5.30pm boat taxi from Edgartown harbor to the resort if you have a dinner reservation. This hotel also boasts the best concierge on the island, Tim Benoit. There is nothing, and I mean nothing, that Tim doesn't know about the island. Truly a 5-star experience and multi-time winner of Best of The Vineyard, Best of Boston for Best Resort Hotel Condé Nast Readers' Choice award winner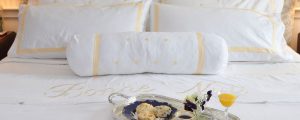 Edgartown Small Hotel – The Hob Knob
Located on Main Street this is the place to stay if you're heading to Edgartown. A few new inns have popped up on the island trying to market themselves as Boutique Hotels, but the Hob Knob gets it right. Being a modern hotel is not simply about having an HGTV make-over, it's about the whole experience of your stay. The Hob Knob delivers impeccably on the experience. The rooms at the Hob Knob are exquisite and the team will ensure your time on Martha's Vineyard is a dream vacation. They are also a Tablet Hotel award winner for Best Romantic Hotel on Martha's Vineyard.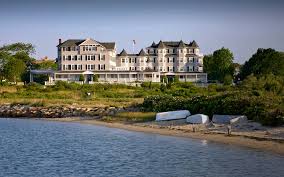 Classic Hotel – Harbor View Hotel
Completely renovated in 2020, this is the magnificent Grand Dame hotel on the island. Beautiful views from many rooms across to Edgartown Lighthouse. Two restaurants on-site and large guest common areas in which to relax. Excellent service and a short walk to Main Street. Best of Boston award and Best of the Vineyard winner for best classic hotel.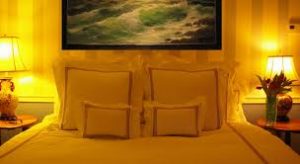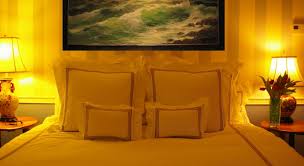 Modern Flair – Charles & Charles
This tucked away Vineyard Haven inn mixes New England style and modern amenities. Contemporary decor is the look and they guarantee that there are definitely no plates on the walls to be found at this inn! It is also great for longer stays as several rooms are really better described as apartments (one is an enormous 1100 sq ft!) and come with kitchenettes. Beautiful secluded swimming pool and free bikes for exploring the island.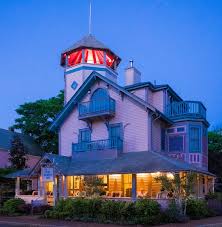 Oak Bluffs History – The Oak Bluffs Inn
If you're headed to Oak Bluffs to enjoy the action and night life then the best place to rest up (and learn all you need to know about the island!) is the Oak Bluffs Inn. A beautiful property with 10 rooms, the inn has room sizes and configurations for all budgets and family sizes.  Winner of Best of Boston award for Best B&B on Martha's Vineyard. The decor is classic beach vacation with colorful touches. The inn is close to everything Oak Bluffs has to offer right on Circuit Avenue. The owners will ensure smooth sailing for your MV vacation with awesome concierge service and legendary evening beach bonfires for their guests.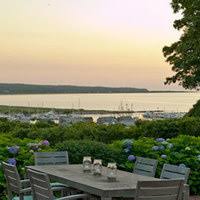 Up-Island Retreat – Beach Plum Inn
Sitting on the beach in Chilmark and close to the fishing village of Menemsha, head here to experience a quiet escape and the essence of the island of Martha's Vineyard. Restaurant on-site. The views are breathtaking. The inn was a Best of Boston winner.
All these lodgings have one thing in common; great local owners providing the absolute best in customer service and professional recognition from the hospitality industry.
Wherever you lay your hat, we wish you a wonderful stay for your Martha's Vineyard vacation.
Safe travels,
Simon