There are many reasons to vacation on Martha's Vineyard but craft beer is maybe not the first thing that springs to mind. So have I got some good news for you!
Martha's Vineyard is home to not one but two breweries and also a spiritual home to a third. Plenty of opportunities to give the biceps a workout raising a few pints after a day exploring the island.
Offshore Ale Company in Oak Bluffs is in my opinion (and I say this after exhaustive testing!) the producer of the best local brews. This is a bona-fide brewpub and serves only the beer that it produces on site. Brew master Neil Atkins brings years of experience to his art and has developed a broad spectrum of Martha's Vineyard craft beers to soothe a wide range of tastes – in other words he's created a beer palette for every palate! The Amber Ale is probably their best seller with balanced malt and a hint of caramel but their beer menu goes from light lager inspired East Chop Lighthouse Ale to the hoppy Lazy Frog west coast style IPA. If you're lucky they'll also have the seasonal Merseyside Red, worth the ferry trip on its own. In late September you get the chance of a true local Martha's Vineyard experience with the annual release of their Hopps Farm Road Pale Ale. This is made from organically grown local Chinook hops that are hand-picked by those wanting to get the chance to taste this brew. Typically about 10 barrels can be made so the beer is in limited supply. Whilst here see if you can find the LFC banner that is proudly displayed #YNWA. Offshore is happily open year round.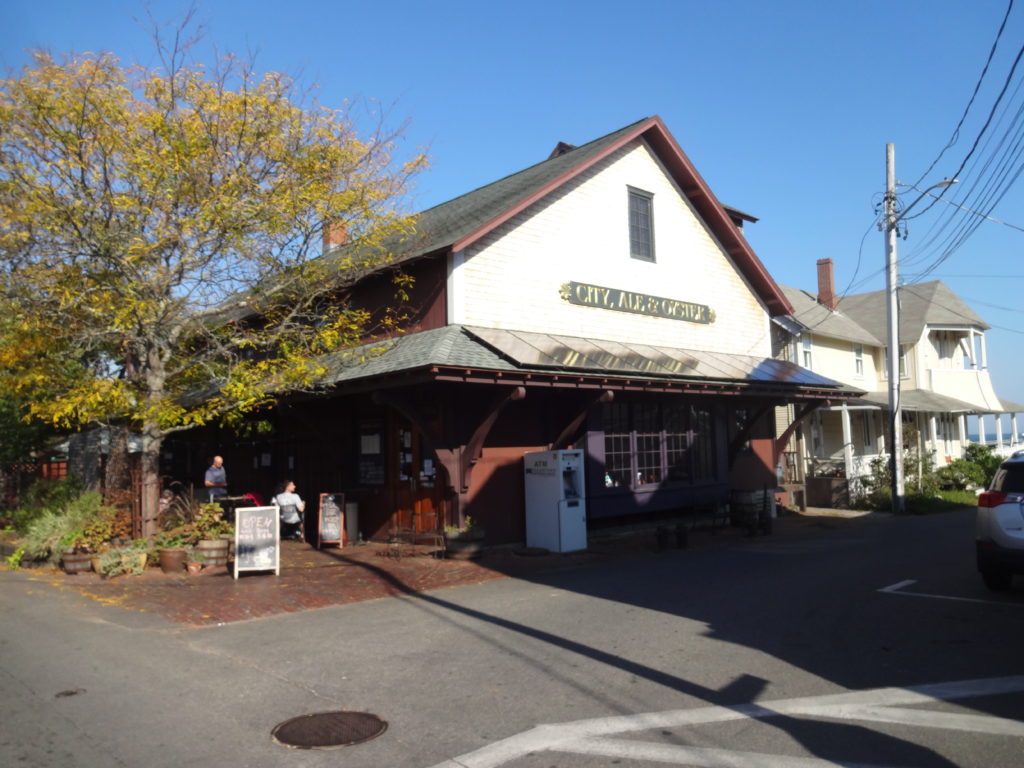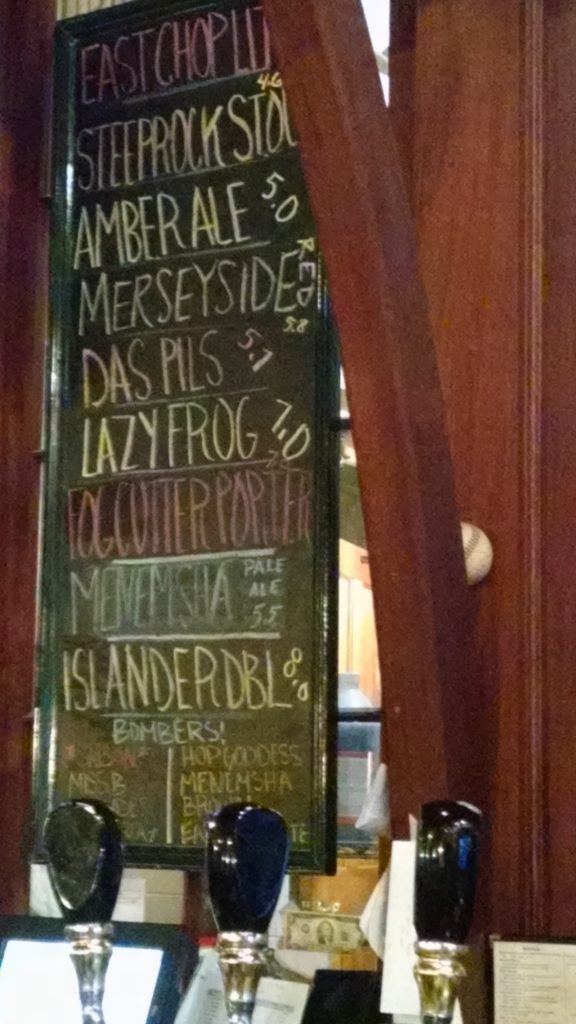 Next up is Bad Martha's brewery in Edgartown (a second outpost is now open in Falmouth). Although you're first chance to sip a few of these Martha's Vineyard beers is on the ferry heading over to Vineyard Haven. The brewery is set up like a Napa Valley wine tasting rooms and brews many of the beers on site and normally has a range of 10 beers on tap to taste. The Summer Ale is excellent as is the 508 IPA. They cleverly utilize local ingredients to add unexpected flavors to some of the beers – the 508 has vineyard grape leaves thrown in,  the Shark Bite uses locally grown jalapenos and cucumbers! The brewery is open seasonally and is a great summer spot with charcuterie boards to accompany the beer and live music.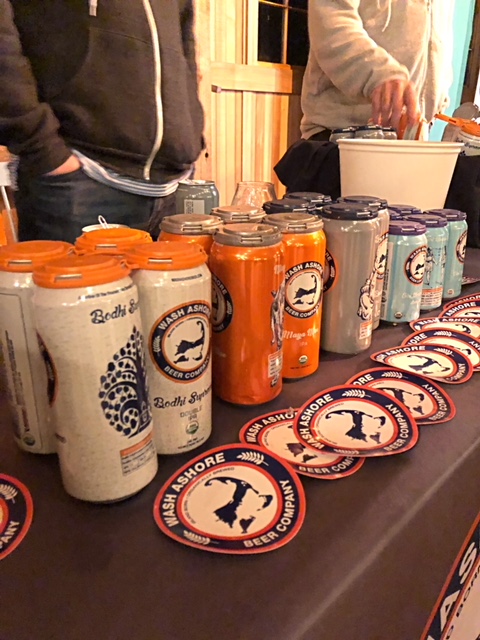 The third brewery, Wash Ashore Beer, is the creation of our friends Michelle & Chad Verdi and Martha's Vineyard restaurant owner Joe Monteiro (owner of 19 Raw oyster bar) and partner John Clift. Although the beer is brewed in Rhode Island it considers Martha's Vineyard its spiritual home as this is where it was born. Many of the island restaurants and bars (eg Lookout Tavern, 19 Raw, Rockfish, Loft, Copper Wok, Detente) proudly serve Wash Ashore beer as does the Seastreak Ferry. The brightly colored cans and imaginatively named brews offer fresh, fruity and hoppy brews that are especially suited to summer drinking. The Bhudda Pale Ale and Maya Mae IPA are favorites of mine but the fruity Love Ale is also worth a try.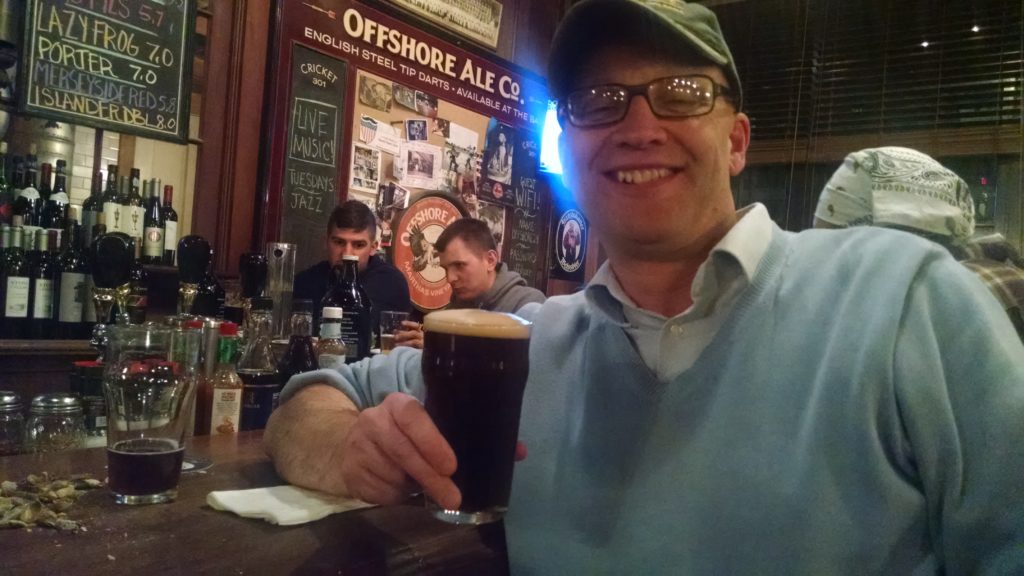 A great venue to test out these breweries and many others from New England is the annual Martha's Vineyard Craft Beer Festival that takes place in Oak Bluffs every September. See you there!
Cheers & safe travels,
Simon